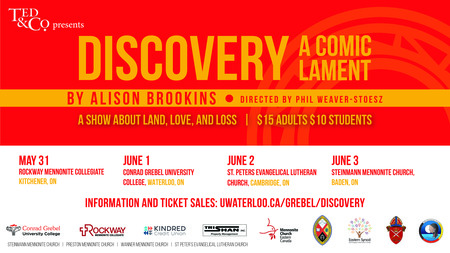 On Sunday June 23rd our Worship Gathering is Canceled. We are going on A road trip insteak to see a play called Discovery: A Comic Lament. Tickets can be bought HERE. For those of us going from The Commons we will be meeting at Hooper Law at 6pm to Car Pool.
We are encouraging anyone who isn't able to go to use the day to visit another church in the TrueCity network that we are a part of. Two suggestions are:
The Meeting Place – 4pm at 541 Barton St. E.
Supper Served after their Gathering.
Eucharist Church –  3:30pm at 130 Victoria Ave North.
3pm for coffee/tea & snacks before the Gathering.
Discovery: A Comic Lament Preview from Ted & Company on Vimeo.